Company
Since 1960, Hausman Metal Works has specialized in heating and air conditioning ventilation systems, and custom fabricated stainless steel, designed to fit your exact needs for your industry. We work with all types of roofing and architectural metals, using the right products and tools for any commercial application.

Because of our diverse experience base, our dedicated staff of great people, state of the art facility and certified safety program, we offer superior products that satisfy any customer.

At Hausman Metal Works and Roofing, quality is our number one priority.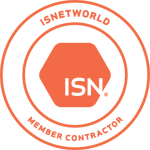 Since 2015, Hausman Metal Works & Roofing is an ISN Member Contractor.